Click the start ordination video.
Ready to apply for your ordination? Remember, no one is turned away,  it never expires, just $25.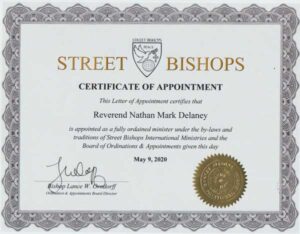 This is the process:
1. Complete the form below. (Now Again Available World-Wide) 2. Click Submit to send this information to us. 3. Use your credit or debit card to pay the fee ($25 admin fee and $7.50 Priority Postage) 4. Expect your ordination papers within a week or so. 5. Contact us as much as you'd like to get guidance and advice!
We will priority postal mail to you:
1. Letter of Ordination with embossed signature. 2. Letter of Good Standing for your circuit court, if needed 3. Frame-quality Certificate of Appointment 4. Copy of Lance's Wedding Handbook (ebook)
Use this form: