Click the start ordination video.

Ready to apply for your ordination?
Remember, no one is turned away,  it never expires, just $25.
About Our Organization/Ministry
Your ordination will be issued by Street Bishops Ministries. Street Bishops is a Christ-based Christian ministry that has been serving the world community for more than twenty years. We were called to provide ordination for all who ask. Jesus went to the shore and asked his disciples to drop their nets and follow him. He provided no requirements other than to follow. And today that is what we ask of you. If you request ordination from us, we ask that you follow the walk of Jesus Christ as best you can and look towards our Heavenly Father for your divine inspiration to lead and serve in his name.
What You Get
A certificate of ordination, a letter of ordination, and a letter of good standing with embossed signatures. You can use these documents to start or grow your ministry as well as marry couples, conduct funerals, and baptisms. Some agencies require ordination if you want to apply for certain religious-based grants and loans.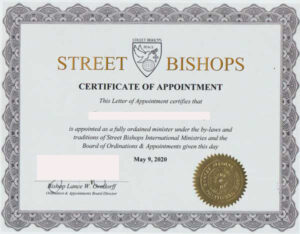 This is the process:
1. Complete the form below.
2. Click Submit to send this information to us.
3. Use your credit or debit card to pay the fee
($25 for basic ordination or $49 for Ordination PLUS with coaching,  and the $7.50 Priority Postage)
4. Expect your ordination papers within a week or so.
5. Contact us as much as you'd like to get guidance and advice!
We will priority postal mail to you:
1. Letter of Ordination with embossed signature.
2. Letter of Good Standing for your circuit court, if needed
3. Frame-quality Certificate of Appointment
4. Copy of Lance's Wedding Handbook (ebook)
Use this form: